Risk Assessment
The risk assessment doesn't need to be, in fact it shouldn't be, complicated or long. It should just be common sense, but written down.
Use 'Risk Assessment.xlsx' as a template, and have a look at the 'Example Risk Assessment.xlsx' in the You Camp zip file. Don't be scared or put off by the example – yours doesn't need to be that complex.
All you need to do is think of each activity you'll be doing and ask yourself 'what could go wrong?'. What is potentially dangerous about what you'll be doing? And then, what can you do to make it less dangerous? You've got to think about this for every activity, including cooking and just being on the camp itself.
Please don't worry about the responsibility on your shoulders for this. We do want you to take it seriously, and do the risk assessment as thoroughly as you can. But Ceri will also be writing his own risk assessment for your camp – he wouldn't allow the camp or activity to go ahead if he didn't think it was safe.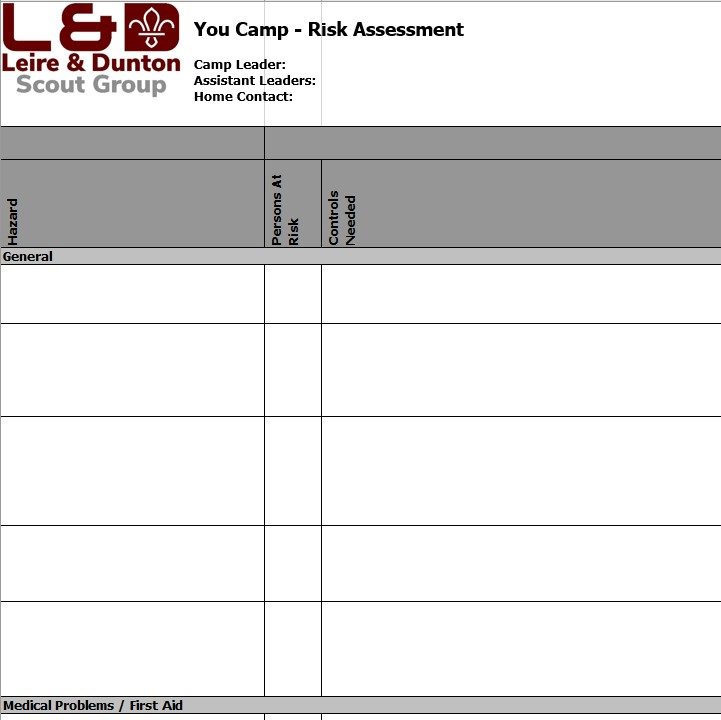 First Aid
One item of equipment you will definitely need is a first aid kit, and at least two of you should hold the Emergency Aid Stage 3 or higher badge.
During the camp, if anyone is injured in any way, shape or form, you should send Ceri a message with the details of what happened and what was done to treat it so that he can log it. This may seem silly for something like a small cut, but we do need to keep a record of any injury sustained on a Scouting activity.