What Needs To Be In It?
The camp file is where you keep all of your paperwork, before the camp, during the camp, and immediately after the camp. This is what it should contain –
Programme (Programmee.docx)

Nights Away Passport (Nights Away Passport.pdf)

Nights Away Notification Form (Ceri will fill this in – he'll need to submit it at least a fortnight before the camp, so make sure you let him know all of the details he needs before this)

Risk Assessment (Risk Assessment.xlsx)

Completed Medical Forms For Everyone (Camp Medical Form.docx)
Other things you might find useful to include in the file are –
Weather forecast for the duration of the camp

Map of the campsite (especially if you haven't been there before)

Details of the nearest shop (and opening hours) & hospital (Accident & Emergency)

A list of the names and dates of birth of everyone who will be on camp (a couple of copies) – some campsites ask for this when you arrive, so it's easier to have this to hand rather than going through all the medical forms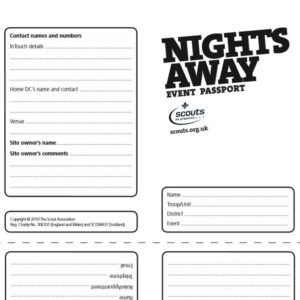 Get Your File Checked
Show the file to Ceri during your planning, and when you've finished planning. He needs to be happy that you've planned everything properly and that you're capable of running the camp before the camp can go ahead.