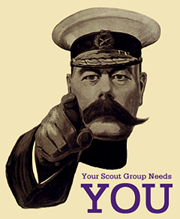 You may not know it but Beaver, Cub & Scout groups don't just need adults in uniform. The weekly running of the group by the section leaders is backed up by an Executive committee responsible for the financial management and operation of the group within the rules of the Scout association and Charity commission. The executive meets once or twice a term for an hour or so.
Leire & Dunton Scout Group needs a new Treasurer & a new Secretary to fulfil roles being vacated by long serving members John & Karen.
The Secretary's role involves minute taking, correspondence & communication while the Treasurer is responsible for the group's finances, record keeping and banking. Most of the banking & Finance is now on-line. Unlike the uniformed leaders, neither of these roles require weekly commitment or direct involvement with the young people of the group.   
These roles need filling. Can you help? If you're interested in taking on either role, want to know more details or simply think you could help by joining the committee as a general member then get in touch. The Group Chairman can be contacted via chair@leireduntonscouts.org.uk